Tiffany Doggett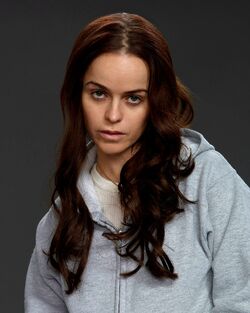 Episode count
{{{Count}}}
Ethnicity
{{{Ethnicity}}}
Offense
Shooting a nurse in an abortion clinic
Cause of death
{{{Death}}}
Tiffany "Pennsatucky" Doggett, portrayed by Taryn Manning, is an inmate at Litchfield Prison and the series' primary antagonist.
Doggett, who exhibits psychopathic tendencies, became a devout Christian following her arrest and believes Jesus Christ is speaking through her - giving her the ability to perform miracles.
She is a guest star for Season 1 and a series regular in Season 2.[1]
Personality
Edit
Doggett has devoted her time in prison to Jesus Christ. She is a religious zealot and junkie.  She believes homosexuality and anything of the sort is repulsive.
Doggett is known to become extremely violent when she perceives someone as disrespecting her, having attempted murder twice for the same reason, Chapman being her second attempt in the Season 1 finale, Can't Fix Crazy.
She regularly references various family members that are incarcerated around the country.
Biography
Edit
Before she went to the abortion clinic during her flashback in "Fool Me Once", she was together with a man who had, apparently, gotten her pregnant. He is not the same companion seen at the abortion clinic when Doggett goes to get her fifth abortion. When a nurse makes a snide comment, Doggett gets a gun from her car and shoots the nurse in the middle of the day with many witnesses. 
A lawyer from a Christian firm introduces himself to Doggett and encourages her to consider hiring him. Entering the courthouse for her trial, pro-life supporters cheer for a visibly flattered Doggett, believing her act to be one against the clinic's practice itself.
In prison, she has devoted herself to God, spending most of her time trying to preach His word and convert others to His ways. Her homophobia earns her a kiss from Alex.
Her lawyer reaffirms her faith after Doggett's experience in Psych.
In the middle of a Christmas performance, Piper Chapman left the show. Tiffany walked out and met her outside and after threatening Piper numerous times with weapons, Piper finally snapped and beat Tiffany. If she survives or not is not currently known.
Relationships
Edit
She seems to have a close friendship with fellow inmate, Leanne Taylor, who has been entranced by Doggett's stories of Christianity.
For a brief period, she also had a friendship with Piper before she allegedly "disrespected" her, forcing Doggett to set out to kill her.
Memorable quotes
Edit
"We should have a 'Whites Only' bathroom!"
"I'm not crazy,  I'm chosen."
Edit
"I'm just a simple woman, doing the work of the lord."
"Its beautiful. All right? It's our right as Americans to religious freedom. Ain't you heard of the Third Amendment?"    
Edit
"No, i-i-i-it comes in two stages -- if you study your shit! The first one was a spiritual rapture, and the second one comin' is a physical one, okay? And you're not invited, because they don't allow gay people on the rapture bus!" 
"They're sexing, Mr. Healy. I seen it with my own eyes."
"What are you, one of those hippy dippy docs?"
"She a lesbian. They lesbianing together."
"I'm just getting started, bitch."
"I'm an angel of God. I mean, look at my dress".
"Hey, College. I got words for you."
"I don't know about ya'll, but I'm really starting to feel like you're trying to assassinate my character."
Image gallery
Edit