Sophia Burset
Comment

1
80pages on
this wiki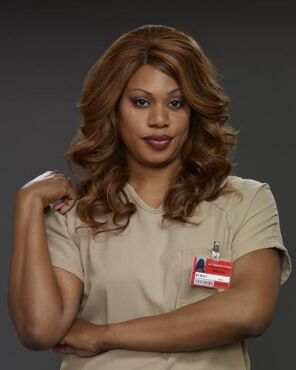 Sophia Burset, Played by transgender actress Laverne Cox, is an inmate at the women's prison who works as the prison's hairdresser. Before transitioning Sophia worked as a firefighter. In prison for credit card theft, Sophia has to contend with being the only transgender woman in the prison and all the transphobia directed at her by both inmates and staff.
Memorable Quotes
Edit
"You have some fucked up priorities."
"I can take good care of you... but even if you don't go to me, don't go to Danita! She will burn the shit out of your scalp."
"Please is for commissary hoes and Oliver Twist."
"Human beings aren't supposed to live like this."
"I'd like to report an emergency."
"Holy shit. I look hot."
"I don't do sausage on my breakfast sandwich."
[Sophia and Taystee]
Taystee: "I gotta live with this hair, yo... Do me like Rihanna!"
Sophia: "Rihanna when? She's had like 26 hairdos in the past 2 years."