Appeared in
{{{Appeared}}}
Mentioned in
{{{Mentioned}}}
First mentioned
{{{FirstM}}}
Last mentioned
{{{LastM}}}
Offense
Credit card fraud
Occupation
Hair Salon (Litchfield)
Former-Fireman
Bunk Mate(s)
{{{Bunk Mate}}}
Cause of death
{{{Death}}}
Sophia Burset
 is an inmate at 
Litchfield Penitentiary
 who works as the prison's hairdresser. She is portrayed by actress 
Laverne Cox
. She is currently serving her time at the SHU.
Biography
Edit
Before Litchfield
Edit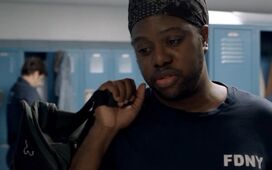 Before transitioning, Sophia was a firefighter named Marcus and was married to Crystal, with whom she had a son. To pay for her sex-reassignment operations, she stole credit cards, boosting them to finance her surgeries. Throughout the entire process, her unknowing wife stuck by her, while their son, Michael, had difficulty accepting that his biological father was transgender and decided to get back at her by informing the police of her crime.
Sophia has to contend with being the only trans woman in the prison and bearing the brunt of all the transphobia directed at her by both inmates and staff.
Sophia appears to have an ongoing rivalry with Danita, who also runs a hair salon at Litchfield.
It's revealed that she had been in Litchfield for 2 years prior to Season 2.
[...]
She applied for furlough when her father had a lung transplant that didn't take. Sophia had a very distant relationship with her father after her transition, but when he started dying, he began to accept her and even called her his daughter (Appropriately Sized Pots).
Throughout much of the season Sophia and Gloria feel the helplessness that comes with being a mother behind bars, after Gloria asks that her son, Benny, be given rides up to the prison. Shortly after, Sophia's son Michael starts swearing, acting belligerent and getting into fights, which causes Sophia to blame his actions on Benny being a bad influence on her son. Angered, Sophia retracts the offer to give Benny rides to the prison. It's later revealed that the bad behavior was Michael's doing, not Benny's, which just causes tempers to flare even more between Sophia and Gloria. Later, their fight leads to Gloria and Aleida spreading transphobic rumors about Sophia, causing Sophia to be harassed and attacked by a number of inmates. She later threatens to sue Litchfield Prison for low security and control. This blows up in her face, however when she is sent to the SHU for"her own protection".
[...]
Personality
Edit
Sophia is a friendly person in general, and enjoys doing her makeup and fixing inmates' hair. She stands by her beliefs and is stubborn to get what she wants.
[...]
Physical Appearance
Edit
Relationships
Edit
Memorable Quotes
Edit
"You have some fucked up priorities."
— Sophia Burset
"I can take good care of you... but even if you don't go to me, don't go to Danita! She will burn the shit out of your scalp."
— Sophia Burset
"Human beings aren't supposed to live like this."
— Sophia Burset
"Holy shit. I look hot."
— Sophia Burset
"I don't do sausage on my breakfast sandwich."
— Sophia Burset
"I knew them bitches was lying when they said you left here looking like Omar from The Wire."
— Sophia Burset
"'Please' is for commissary hoes and Oliver Twist."
— Sophia Burset
"If I would've seen him, I don't know, may have felt like closure. But we don't get a lot of that in this life now, do we."
— Sophia Burset
Promotional Pictures
Edit
Promotional Pictures
Edit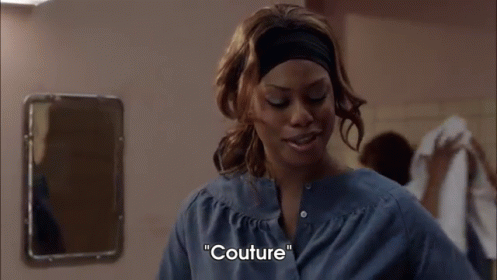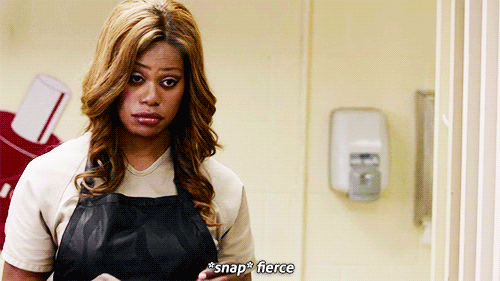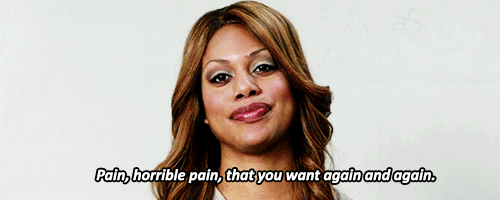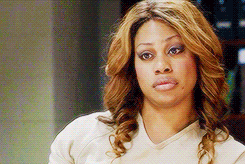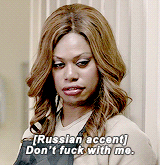 Sophia's character is based on a real transgender inmate in Piper Kermans book named Vanessa, however Kerman changed her name to Vanessa to protect her identity.
Pre-transition Sophia (Marcus) was played by Cox's twin brother M. Lamar.