Overview
Edit
A shank is a weapon used in prisons, commonly made of toothbrushes whittled down to be sharp, although other items can be used.
Information
Edit
In
Season Two
,
Taslitz
attempts to stab
Vee
with a shank to protect
Red
. However, she instead inadvertently stabs a random inmate who looks like Vee from the back. Taslitz is sent to
Maximum Security
. It is unknown what happened to the stabbing victim.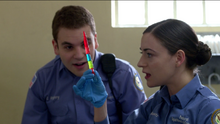 In
Season Three
,
Piper
finds a shank made out of hard candy whilst searching for a contraband cellphone. She later plants this - along with other contraband items - in
Stella Carlin
's bunk, causing Stella to be sent to Max.
Ad blocker interference detected!
Wikia is a free-to-use site that makes money from advertising. We have a modified experience for viewers using ad blockers

Wikia is not accessible if you've made further modifications. Remove the custom ad blocker rule(s) and the page will load as expected.