Orange Is the New Black
for a fourth season
[1]
, which was released on June 17, 2016, as confirmed on January 17, 2016.
[2]
An official trailer was released on May 10, 2016.
Episodes
Edit
Official Trailer
Edit
Promotional Pictures
Edit
These are confirmed spoilers.
It has been confirmed that Ruby Rose is unsure if she is going to return for Season Four, she has not been on set for the beginning of filming, but "with Jenji Kohan literally anything could happen [3]
Caitlyn Jenner will not be joining the cast. [7]
Main Cast
Edit
Recurring Guest
Edit
Directors
Edit
Focal Characters
Edit
Each episode will have a focal character, and often more than one. These characters will have flashbacks and be a big part of the episode.
This is a list of the music featued in the ending credits for each episode.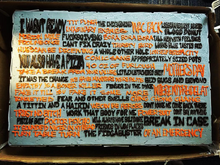 The episode titles for the entire season were released by Foxtel, the Australian distributor of ''Orange Is the New Black'', some days before the air date of Season Four. Dascha Polanco, however, had already revealed the names of 11 episodes on Instagram back in March, 2016. Apparently, "The Fidgabuster" and "Break in Case of an Emergency" were changed last minute.
References
Edit
Ad blocker interference detected!
Wikia is a free-to-use site that makes money from advertising. We have a modified experience for viewers using ad blockers

Wikia is not accessible if you've made further modifications. Remove the custom ad blocker rule(s) and the page will load as expected.