Sam Healy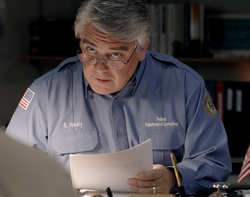 Episode count
{{{Count}}}
Ethnicity
{{{Ethnicity}}}
Occupation
Corrections officer and inmate counselor
Cause of death
{{{Death}}}
Sam Healy is portrayed by Michael Harney and is a main character in Season 1 of the Netflix original series Orange is the New Black.
Personality
Edit
Seeming at first to be a good guy and side with Piper, Mr. Healy's true colors are shown when he uses Piper in order to find a smuggled cellphone and then goes back on their mutual deal. He later calls Larry to inform him of the affair she is having with Alex. He is also aware that Tiffany Doggett is about to attack Piper and does nothing to stop it, he ignores the situation completely. Mr. Healy has a Ukrainian mail-order bride and he makes it obvious he doesn't like lesbians.
Relationships
Edit
He is fond of Piper, acknowledging that they are "different" than others in the prison.
He has a Ukrainian bride who is using him for her Green card, which she has 2 years left in the states to obtain. Her mother also lives with him. They speak Ukrainian at home, a language Healy does not speak, thus excluding him from their conversations. 
Memorable quotes
Edit
"Please close the door behind you."
"This isn't about giving them power. This is about your mother telling you, you can take a bath before dinner or after; you are still gonna get wet. But you thought you had a choice." S01E05
"We better go to Wikipedia right away."
Image gallery
Edit