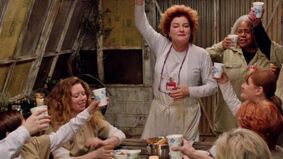 Red's Family is a group within Litchfield Penitentiary headed by Galina "Red" Reznikov.
Active Members
Edit
Unofficial Members
Edit
Inmates who are not officially part of the 'family', but are frequently seen with them:
Blanca Flores - Blanca and Red began to have a friendship in the Season Five, when they had the same purpose to destroy Piscatella. The two stayed the whole season together and also used drugs to stay awake the whole time. Both women were abducted by Piscatella and psychologically tortured by him, but were rescued by the family.
Gloria Mendoza - Initially, she did not like each other because of the competition of both in the kitchen. After Red returned as head of the kitchen, she and Gloria and Red began to be more sensible to each other.
Former Members
Edit
[[Category:Cliques]
Ad blocker interference detected!
Wikia is a free-to-use site that makes money from advertising. We have a modified experience for viewers using ad blockers

Wikia is not accessible if you've made further modifications. Remove the custom ad blocker rule(s) and the page will load as expected.