Piper Chapman
Comments

9
180pages on
this wiki
Piper Chapman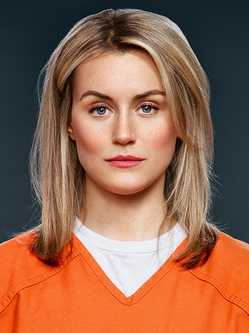 Offense
Criminal Conspiracy
Occupation
Electrical Shop (Litchfield)
Cause of death
{{{Death}}}

Piper Chapman, portrayed by Taylor Schilling, is the main character in the original Netflix series Orange is the New Black. Based directly on the author of "Orange is the New Black: My Year in a Women's Prison" by Piper Kerman, it is her story that the series revolves around. Piper Chapman became entangled with Alex Vause whom she met at a bar while trying to get a job as a waitress. They quickly began a relationship afterwards and it can be assumed that later on Piper discovered that Alex actually did work for an international drug cartel, which she teasingly alluded to Piper upon their first meeting. However, Piper did not end their romance and instead ended up helping to carry drug money for Alex. It was only a one time thing and she eventually left Alex all together but several years later she was indicted for the money laundering and drug trafficking and was given a sentence of 15 months at Litchfield Penitentiary, NY Federal Correctional Institution.
Personality
Edit
Piper comes across as a slightly naive know-it-all to other inmates and she seems to be a bit flighty and dependent in her relationships as well. But at times, she seems to cop an attitude and a temper when provoked. She aIso is attracted to Vause, though she is in love with Larry.
Physical Appearance
Edit
Piper has blonde hair, blue eyes, and a fish tattoo on the back of her neck.