Pat Warren is the adoptive mother of Suzanne Warren, also known as "Crazy Eyes". She was very protective of her daughter when she was growing up and pushed her to do a lot of things she didn't want to do to show everyone how good Suzanne really was. She is married to Dennis Warren and has a biological daughter named Grace with him.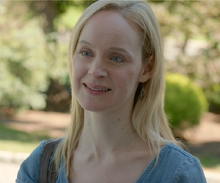 Ad blocker interference detected!
Wikia is a free-to-use site that makes money from advertising. We have a modified experience for viewers using ad blockers

Wikia is not accessible if you've made further modifications. Remove the custom ad blocker rule(s) and the page will load as expected.