Ad blocker interference detected!
Wikia is a free-to-use site that makes money from advertising. We have a modified experience for viewers using ad blockers

Wikia is not accessible if you've made further modifications. Remove the custom ad blocker rule(s) and the page will load as expected.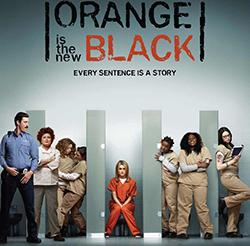 Orange Is the New Black is a comedy-drama Netflix series which takes place in a women's prison. The story is based around Piper Chapman, a woman whose past history with a drug dealer (Alex Vause) eventually causes her to be sentenced to 15 months in prison. The show is loosely based on the autobiographical novel Orange is the New Black: My Year in a Women's Prison, by Piper Kerman. The show was created by the creator of Weeds, Jenji Kohan. The main title theme song for the series "You've Got Time" is written, composed and performed by Regina Spector. 
Series Trailer
Edit
Recurring
Edit
Accolades
Edit
Year
Ceremony
Category
Recipients
Result
2014
4th Critics' Choice Television Awards
Best Comedy Series
Won
Best Supporting Actress in a Comedy Series
Kate Mulgrew
Won
Laverne Cox
Nominated
Best Guest Performer in a Comedy Series
Uzo Aduba
Won
71st Golden Globe Awards
Best Actress in a Television Series – Drama
Taylor Schilling
Nominated
25th GLAAD Media Awards
Outstanding Comedy Series
Won
56th Annual Grammy Awards
Best Song Written for Visual Media
Regina Spektor – "You've Got Time"
Nominated
66th Primetime Emmy Awards
Outstanding Comedy Series
Nominated
Outstanding Lead Actress in a Comedy Series
Taylor Schilling

(Episode: The Chickening)

Nominated
Outstanding Supporting Actress in a Comedy Series
Kate Mulgrew

(Episode: Tit Punch)

Nominated
Outstanding Guest Actress in a Comedy Series
Uzo Aduba

(Episode: Lesbian Request Denied)

Won
Laverne Cox

(Episode: Lesbian Request Denied)

Nominated
Natasha Lyonne

(Episode: WAC Pack)

Nominated
Outstanding Directing for a Comedy Series
Jodie Foster

(Episode: "Lesbian Request Denied")

Nominated
Outstanding Writing for a Comedy Series
Liz Friedman and Jenji Kohan

(Episode: I Wasn't Ready)

Nominated
Outstanding Casting for a Comedy Series
Jennifer Euston
Won
Outstanding Single-Camera Picture Editing for a Comedy Series
William Turro

(Episode: Tit Punch)

Won
Shannon Mitchell

(Episode: Tall Men with Feelings)

Nominated
Michael S. Stern

(Episode: Can't Fix Crazy)

Nominated
40th People's Choice Awards
Favorite Streaming Series
Won
18th Satellite Awards
Best Television Series – Musical or Comedy
Won
Best Cast – Television Series
Won
Best Actress in a Television Series – Musical or Comedy
Taylor Schilling
Won
Best Supporting Actress – Series, Miniseries, or Television Film
Laura Prepon
Won
Uzo Aduba
Nominated
30th TCA Awards
Program of the Year
Nominated
Outstanding New Program
Won
66th Writers Guild of America Awards
Best Comedy Series
Nominated
Best New Series
Nominated
Best Episodic Comedy
Liz Friedman and Jenji Kohan

(Episode: I Wasn't Ready)

Nominated
Sian Heder

(Episode: Lesbian Request Denied)

Nominated
2014 Young Hollywood Awards
Best Cast Chemistry – TV series
Nominated
Bingeworthy TV series
Won
Breakthrough Actress
Danielle Brooks
Won
We Love to Hate You
Pablo Schreiber
Won
2015
41st People's Choice Awards
Favorite TV Dramedy
Won
72nd Golden Globe Awards
Best Television Series – Musical or Comedy
Nominated
Best Actress – Television Series Musical or Comedy
Taylor Schilling
Nominated
Best Supporting Actress – Series, Miniseries or Television Film
Uzo Aduba
Nominated
19th Satellite Awards
Best Musical or Comedy Series
Nominated
Best Actress in a Musical or Comedy Series
Taylor Schilling
Nominated
26th Producers Guild of America Awards
Best Episodic Comedy
Mark A. Burley, Sara Hess, Jenji Kohan, Gary Lennon,

Neri Tannenbaum, Michael Trim, Lisa I. Vinnecour

Won
21st Screen Actors Guild Awards
Outstanding Performance by an Ensemble in a Comedy Series
Won
Outstanding Performance by a Female Actor in a Comedy Series
Uzo Aduba
Won
67th Writers Guild of America Awards
Best Comedy Series
Nominated
Best Episodic Comedy
Nick Jones

(Episode: Low Self Esteem City)

Nominated
46th NAACP Image Awards
Outstanding Comedy Series
Nominated
Outstanding Actress in a Comedy Series
Uzo Aduba
Nominated
Outstanding Supporting Actress in a Comedy Series
Adrienne C. Moore
Nominated
Laverne Cox
Nominated
Lorraine Toussaint
Nominated
Outstanding Writing in a Comedy Series
Sara Hess
Won
BAFTA Awards
Best International Programme
Jenji Kohan, Lisa I. Vinnecour, Sara Hess, Sian Heder
Nominated
5th Critics' Choice Television Awards
Best Drama Series
Nominated
Best Supporting Actress in a Drama Series
Lorraine Toussaint
Won
67th Primetime Emmy Awards
Outstanding Drama Series
Pending
Outstanding Supporting Actress in a Drama Series
Uzo Aduba

(Episode: Hugs Can Be Deceiving)

Won
Outstanding Guest Actor in a Drama Series
Pablo Schreiber

(Episode: 40 Oz. of Furlough)

Nominated
Outstanding Casting for a Drama Series
Jennifer Euston
Pending