Lorna Morello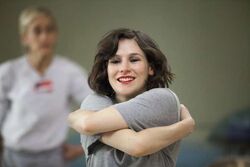 Episode count
{{{Count}}}
Ethnicity
{{{Ethnicity}}}
Family
Christopher (Fiance)
Offense
Internet fraud (Implied)
Cause of death
{{{Death}}}

Lorna Morello, portrayed by Yael Stone, is an inmate at Litchfield Prison for Season 1 of Orange is the New Black. Morello is one of Red's girls.
Biography
Edit
Piper meets Morello in the first episode, as the latter is in charge of driving the Litchfield van. Morello is seen to be in a sort of friends with benefits arrangement with Nicky Nichols, though she remains devoted to her fiance Christopher and often talks about their pending wedding. Christopher last visited her three weeks after she was brought to Litchfield. She is chipper and optimistic most of the time. When threatened by Mendez to explain Red's ways of importing contraband products, she becomes more somber and nervous but manages to stand up to him.
When Morello lashes out in response to Carrie "Boo" Black's sarcastic remarks about eBay scams, it is implied that this is the crime for which Morello was sentenced to Litchfield.
Relationships
Edit
Engaged to Christopher.
Friends with benefits with Nicky Nichols (former).
Memorable quotes
Edit
"Sure, you were very comfortable."
"You know what I miss? Mimosas."
"We look out for our own... It's tribal, not racist."
"I would look into it myself, but I have too much empathy. Lays me low."
Image gallery
Edit