Mendez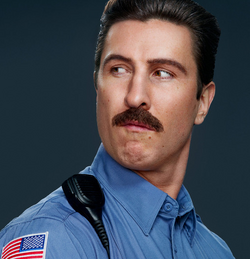 Episode count
{{{Count}}}
Ethnicity
Hispanic-American
Occupation
Corrections Officer
Cause of death
{{{Death}}}

George "Pornstache" Mendez is a recurring character in Season 1 of the Netflix series Orange is the New Black. He is portrayed by Pablo Schreiber.
Biography
Edit
Officer Mendez is a crooked corrections officer. He secretly smuggles drugs into the prison with the [forced] help of Galina Reznikov. He feeds prisoners' drug addictions by trading drugs for sexual favors, as seen with Tricia Miller and Leanne Taylor.  He also carried on an affair with Tricia Miller, giving her drugs for sex. His drugs led to her addiction behind bars and eventual overdose and death, which he framed as a suicide. He is mean, crude, careless and constantly harasses the female inmates.
Memorable Quotes
Edit
"Tough Shit."
"Two speeds in my yard: Walk and shuffle."
"Who told you there was a chicken in my yard?"
"No tongue fucking in the visitation room."
"WE DON'T LEAVE LUNCH 'TIL LUNCH IS OVER."
"Hell nope."
"I like the shape of your ears."
"This shit, that shit, blue shit, bat shit. It doesn't matter what you do, it's the doin' that makes you dirty."
"Holy FUCK, I wish we could put this shit on YouTube!"
"Thanks to this missed opportunity for cradle death, you're here with me and all these other shit birds." S01E04: The Chickening
"Now that right there . . . that's a whole different species my friend." S01E03: Lesbian Request Denied
"Cyborg pussy. Bet it's fuckin' perfect . . . I live in the present, not in the past. Besides, she used to have a dick, so she knows what it likes." S01E03: Lesbian Request Denied
"No; Fuck, not gay. The stash is not for fags. It's for fuckin' men. It's fuckin' all beef. Fuckin' cunt-rammin' awesome."
"I wan't to fuck Jesus in his hand-hole."
Pennsatucky - "That's lesbian activity". Mendez - "It sure is".
Image Gallery
Edit