Alison Abdullah is a new Muslim inmate at Litchfield Penitentiary introduced in Season Four, having been transferred to Litchfield due to MCC's expansion plans. She is portrayed by Amanda Stephen.
Personality
Edit
Alison is sensible and smart, refusing to get too involved in any fights. She takes offence to her bunkmate Cindy making her life difficult but resolves the issue once she gets to know Cindy better. She is shown to try to cheer others up when they're down and usually keeps to herself.
Physical Appearance
Edit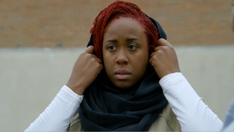 Alison wears a hijab as a sign of modesty, due to her being Muslim. She also uses her hijab to hide a cell phone, which she uses to secretly communicate with her child, Farah, revealed in a text message reading "I miss you mommy!". When Janae and Cindy are mourning Poussey, she shows them her bright red dreadlocks, giving them ample joke material and cheering them up. Abdullah has dark skin and large eyes. She has a high forehead and well-groomed eyebrows. 
Biography
Edit
Before Litchfield
Edit
Not much is known about Alison's life before her incarceration, besides the facts that she is of Muslim belief and has a daughter called Farah.
Upon her arrival, Alison and Cindy quickly antagonize each other, partly due to their religious differences, but mostly due to an inability to decide who takes what space in their cell.
This conflict is resolved in "Piece of Shit" when, during an intervention held by Taystee, they bond when they discover they share a mutual hatred for Scientology.
Alison then joins forces with Cindy and Taystee in their attempt to get a candid shot of Judy King to sell to celebrity tabloids, by contributing her secret cell phone to the mission.
"I'll go ahead and assume Bernie Madoff speaks for your entire religion, too. Ignorant asshole."
— 

 Alison Abdullah
"I am always the car in Monopoly

"

— 

 Alison Abdullah
"You talking some white messiah bullshit

"

— 

 Alison Abdullah
Relationships
Edit
Farah Abdullah (child) - Alison is seen texting Farah in the prison toilets, a text from Farah saying "I miss you, mommy" is seen.
Cindy Hayes (friend) - Although at first a shaky start, the two become close friends after their mutual hate for Scientology.
Poussey Washington (friend) - Poussey accepts Alison into the group, Alison stands up for her after Poussey is killed to Sankey, Helen and Brandy.
Brook Soso (friend) Brook accepts Alison into the group.
Suzanne Warren (friend) - Suzanne introduces herself to Alison when everyone else seems reluctant.
Judy King (friend) - Judy and Alison work together for her to undo all her racist controversy in the past.
Janae Watson (friend) - Janae introduced Alison to the rest of the group.
Cindy Hayes (former) - The two initially clash over religion and bunk space but eventually bond.
Ad blocker interference detected!
Wikia is a free-to-use site that makes money from advertising. We have a modified experience for viewers using ad blockers

Wikia is not accessible if you've made further modifications. Remove the custom ad blocker rule(s) and the page will load as expected.