Alex Vause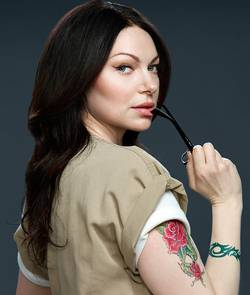 Episode count
{{{Count}}}
Ethnicity
Caucasian-American
Occupation
Laundry (Litchfield)
Cause of death
{{{Death}}}
Alex Vause (Laura Prepon) is a fellow inmate, and the former lover of main character Piper Chapman.
Biography
Edit
Alex grew up poor, the daughter of a working-class single mother that worked four jobs. Her father is a washed up drummer of Death Mane; a popular rock band. Alex grew up being bullied for her low socio-economic status and eventually wound up working for an international drug cartel after meeting her father for the first time.
Personality
Edit
Alex Vause is snarky and street smart. While she does associate with other inmates, she also keeps to herself emotionally, although she isn't afraid to fight back if provoked. Alex is often seen with a book in hand. In regards to Alex's  sexuality,  there is no time line of where it began for her. Alex often passes her ill judgements onto Piper, and Piper takes responsibility eventhough the situation is clearly Alex's fault. Alex relies on Piper just as much as Piper relies on her, but she uses her rockabilly demeanor to hide it all, when she is simply as fragile as the next inmate.
Relationships
Edit
Memorable quotes
Edit
"Maybe this is a bad time to say hi, huh?"
"You wanna get to someone... You've gotta have a long game."
"I am more of a dishwasher kind of gal, sir."
"This is divine retribution."
"Don't you fucking leave me."
"Fuck you. Listen, you have made a decision. So here is what it means going forward. You may not come running to me again. Not with your problems, not with your love, not with your needs, or sadness, or anger or even your laundry when it's not specifically your laundry day. You may never come to me again. Ever."
"I would rather shit and cry than strain and nap all the time."
"Come be my little spoon."
"Show, don't tell."
"Do you want me to kill him?"
"So, in this analogy, you're Jesus Christ?"
"We were never friends. Not for a second. I loved you. I loved having sex with you."
"I heart you."
"You're just hungover and feeling emo."
"I would like to stress that this is truly fucking stupid."
"Heroin was the best girlfriend that I ever had."
[Larry and Alex during visitation]
Larry: "You fucked in a chapel?"
Alex: "It's prison... There aren't a whole lot of options."
"I had grand plans. Now I can't get past the swirling darkness in my brain long enough to land on anything."
"Did your feet swell when you went back to boys?"
"If you ever want to talk about it, that's what the counselors are for."
"Are you cheating on me and Larry with Crazy Eyes? Becuase there's not room for the four of us."
"Wanna fuck in the pantry?"
"Let's celebrate how totally fine you are with everything."
[Alex and Nicky]
Nicky: "What happened to your glasses?"
Alex: "Smashed in the name of Jesus."
"She never used to be the aggressor. I guess it was a new color she was trying on."
"Well, I think that when you have a connection with someone, it never really goes away, you know? You snap back into being important to each other because you still are."
[Alex telling of Pennsatucky for talking about Piper.]
Alex: "You know, I'm with you hun. Really. She's WASPy and entitled and always asking if you have this in whole grain. She's got the Bambi shtick going on. I get all of it. But, I am going to need you to shut the fuck up about her and get over your shit."
Pennsatucky: "Or what?"
Alex: "Or, I will fuck you. Literally. I will sneak into your bunk in the middle of the night and I'll lick your pussy. I will do it so good and so soft, you'll be on the edge of cumming by the time you wake up. And then, I'll stop. And, you'll be half asleep and you'll beg for it. [Laughs] Oh, you'll beg for it. Maybe, I'll be nice. Maybe, I won't. But, if I am nice, the things you feel – it will ruin you forever. So you know, choose."
- Season 1, Episode 7: Blood Donut
Image gallery
Edit